Vienna, 5th September 2022 – XroadMedia, a leading provider in personalization and content discovery, today announced that it has partnered with NAGRA – a Kudelski Group (SIX:KUD.S) company and the world's leading independent provider of content protection – to integrate its cloud-based Ncanto content discovery solution into NAGRA's OpenTV Video Platform.
The integration is available via the NAGRA OpenTV Video Platform, which provides service providers and their end-users with the fastest personalization in the industry provided by XroadMedia. A number of NAGRA customers across the globe are already benefiting from the joint solution delivered by NAGRA and personalized by XroadMedia.
Ncanto, XroadMedia's cloud-based content discovery solution, utilizes user interactions and business data from the customer to generate accurate content personalization for viewers. Fully integrated into the NAGRA OpenTV Video Platform, video service operators can experience highly personalized user experiences and content discovery use cases such as universal search, recommendations and personalized content presentation based on the viewers viewing habits, moods and interests. The joint solution also offers powerful management tools to operators to optimize their personalization use cases at any time as well as introduce new data-driven features and functionalities to consumers with no development and integration resources required.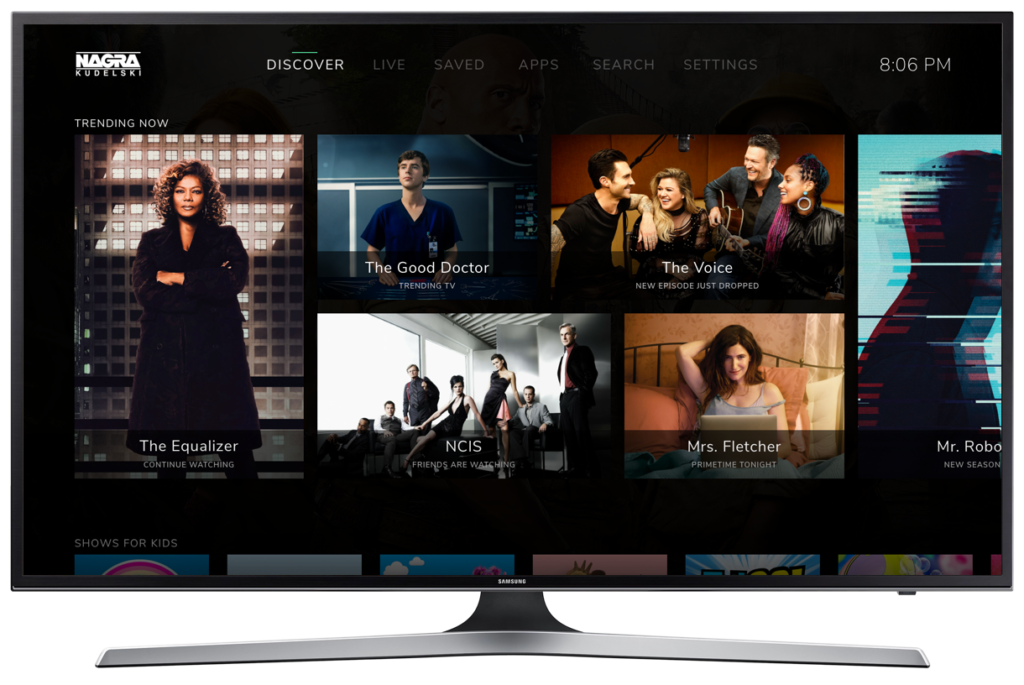 "We are delighted that XroadMedia, a leading player in the media industry, has chosen NAGRA to deploy its Ncanto solution as part of our OpenTV Video Platform", said Tim Pearson, Vice President Global Solution Marketing at NAGRA. "The partnership allows our customers to further increase their operational efficiency, promotion capabilities, and data-driven decision-making opportunities while providing end users with a unique personalized experience."
Adolf Proild, CEO and Co-founder of XroadMedia, comments, "We have enjoyed working with NAGRA and look forward to the many more projects we have in the pipeline. Our solution, Ncanto, creates a seamless environment for end-users to find the content they want to watch much easier. We're excited to be working with NAGRA as they have proven to rollout their OpenTV Video Platform, personalized by us, to operators of any size and in any part of the world in record-time."
NAGRA and XroadMedia are working closely together on upcoming projects offering the latest generation of content discovery to engage end-users. XroadMedia's Ncanto solution, together with Nagra's OpenTV Video Platform, offer service providers a new way to provide hyper-personalized services to their viewers and to improve the monetization of their content and their services.
If you're attending IBC, you can have a walkthrough of some of the systems and the available opportunities with the integration between NAGRA and XroadMedia. Find out more about XroadMedia at IBC here. Visit XroadMedia at stand C.28 in hall 5 and NAGRA at stand C.81 in hall 1.
About NAGRA
NAGRA, the digital TV division of the Kudelski Group (SIX:KUD.S), provides security and multiscreen user experience solutions for the monetization of digital media. The company provides content providers and DTV operators worldwide with secure, open and integrated platforms and applications over broadcast, broadband and mobile platforms, enabling compelling and personalized viewing experiences. Please visit dtv.nagra.com for more information. Follow us on Twitter and LinkedIn.
About XroadMedia
With more than 20 years of industry experience, XroadMedia has developed Ncanto, the latest generation of content discovery, personalization and targeting solutions. XroadMedia helps media companies improve their KPIs using personalization, increasing user engagement, reducing subscriber churn and generating new revenues. Ncanto is an innovative AI back-end solution optimized for low-effort and fast cloud and server-based deployments. Ncanto serves more than 200 million users for operators, streaming services, and broadcasters worldwide, including companies like A1 Telekom Austria Group, Axel Springer, Starhub, Telekom Slovenije and others.
Visit xroadmedia.com for more information.